636 apartments + retail planned at 4005 Crenshaw Boulevard in Baldwin Hills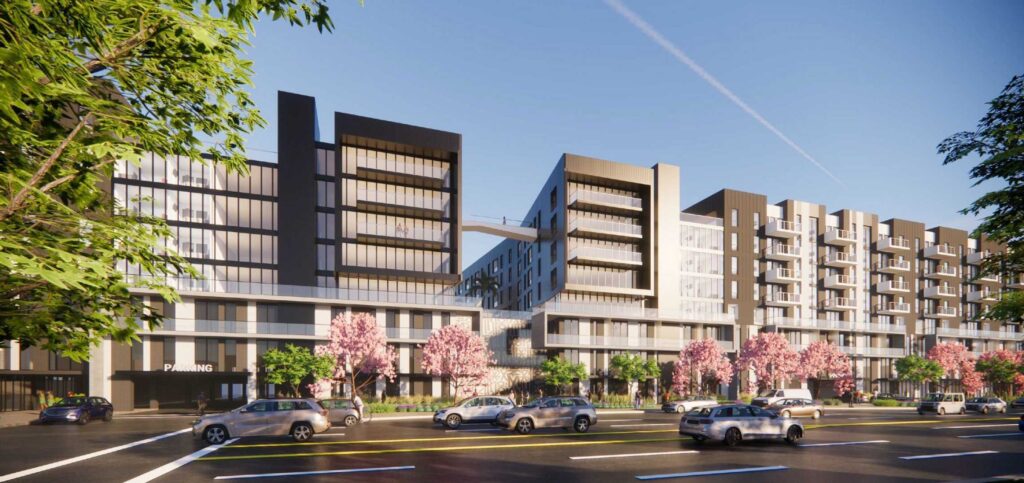 The first phase of the Harridge's Baldwin Hills Crenshaw Plaza redevelopment
Two years after completing its acquisition of the Baldwin Hills Crenshaw Plaza, Harridge Development Group is taking its first steps toward redeveloping portions of the landmark shopping mall.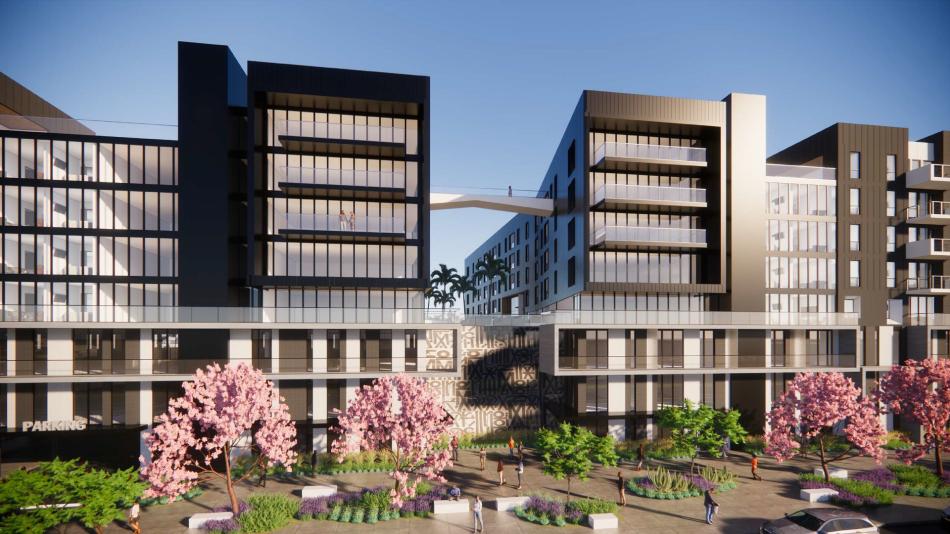 Yesterday, Harridge submitted an application to the Los Angeles Department of City Planning seeking entitlements for what is described as phase one of the Baldwin Hills Crenshaw Plaza Project: a mixed-use complex at 4005 Crenshaw Boulevard. Plans call for the construction of a pair of eight-story, 89-foot-tall buildings featuring 636 studio, one-, and two-bedroom dwellings above approximately 58,000 square feet of ground-floor commercial space – most of which would be dedicated to a grocery store. Parking for just over 1,400 vehicles would be provided in subterranean and podium levels.
As required by the Baldwin Hills Crenshaw Plaza's existing approvals, Harridge will be required to set aside 5 percent of the total apartments for households earning up to 60 percent of the area median income level and an additional 5 percent of dwellings for households earning up to 80 percent of AMI. That amounts to 64 total income-restricted units.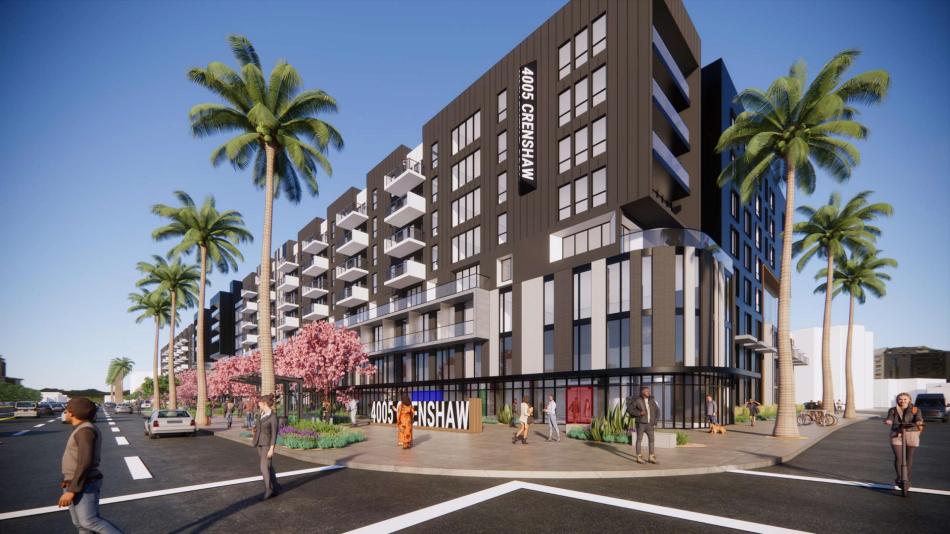 AC Martin is designing 4005 Crenshaw, with Border serving as landscape architect. Findings include with the project application describe the building as having a simple, modern style intended to complement existing surrounding structures.
More than 100,000 square feet of open space is included in the plan, taking the form of several landscaped courtyards within the new buildings, and a landscaped promenade along Crenshaw Boulevard adjacent to the development site.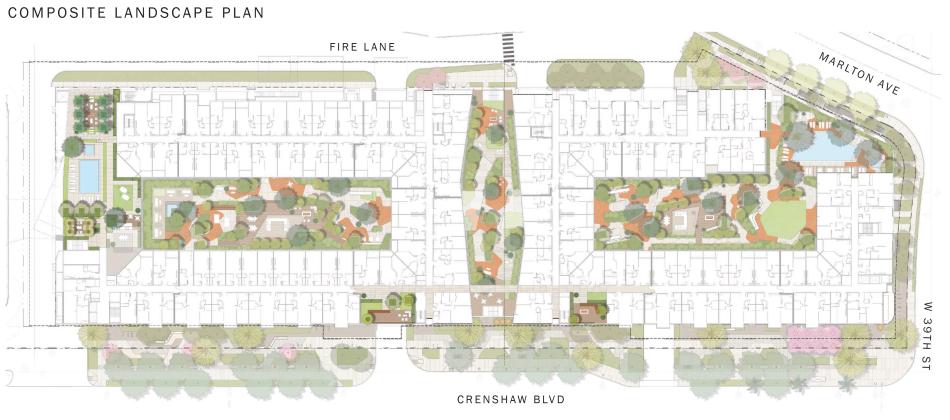 The proposed project would be the first components of a larger plan for the 42-acre mall property, including more than 330,000 square feet of shops and restaurants, more than 140,000 square feet of offices, up to 400 hotel rooms, and 961 homes. The phase one development would leave capacity for 325 additional homes, which would likely be built on land that is now a parking lot at Marlton Avenue and Martin Luther King Jr. Boulevard.
The sale of the Baldwin Hills Crenshaw Plaza was a contentious, drawn out process. CIM Group had originally been slated to take control of the land, only to back away from the deal following community backlash. Harridge eventually cast its winning bid in August 2021, beating out a competing proposal from the community-based Downtown Crenshaw Rising organization.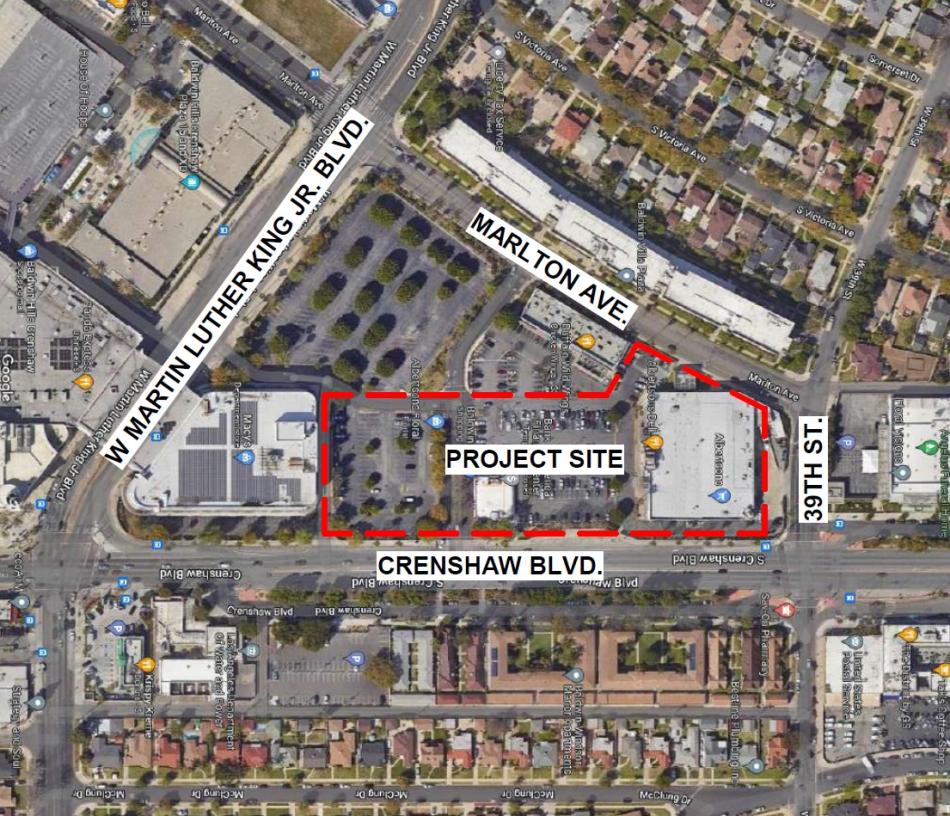 Harridge, which is also backing plans for a large high-rise complex surrounding the Crossroads of the World complex in Hollywood, had pursued even more property in the Baldwin Hills area. The Los Angeles-based firm was also a finalist in the effort to redevelop the neighboring Marlton Square property, but lost out to a bid from Hudson Pacific Properties.
While the Baldwin Hills Crenshaw Plaza site may be the largest project in the near vicinity, developers have recently set their sights on properties up and down Crenshaw Boulevard, due in part to the arrival of Metro's K Line, often taking advantage of the Transit Oriented Communities incentives.
(Source: Urbanize Los Angeles)