The attack on Israel, and how to respond to it, is roiling L.A.'s election campaigns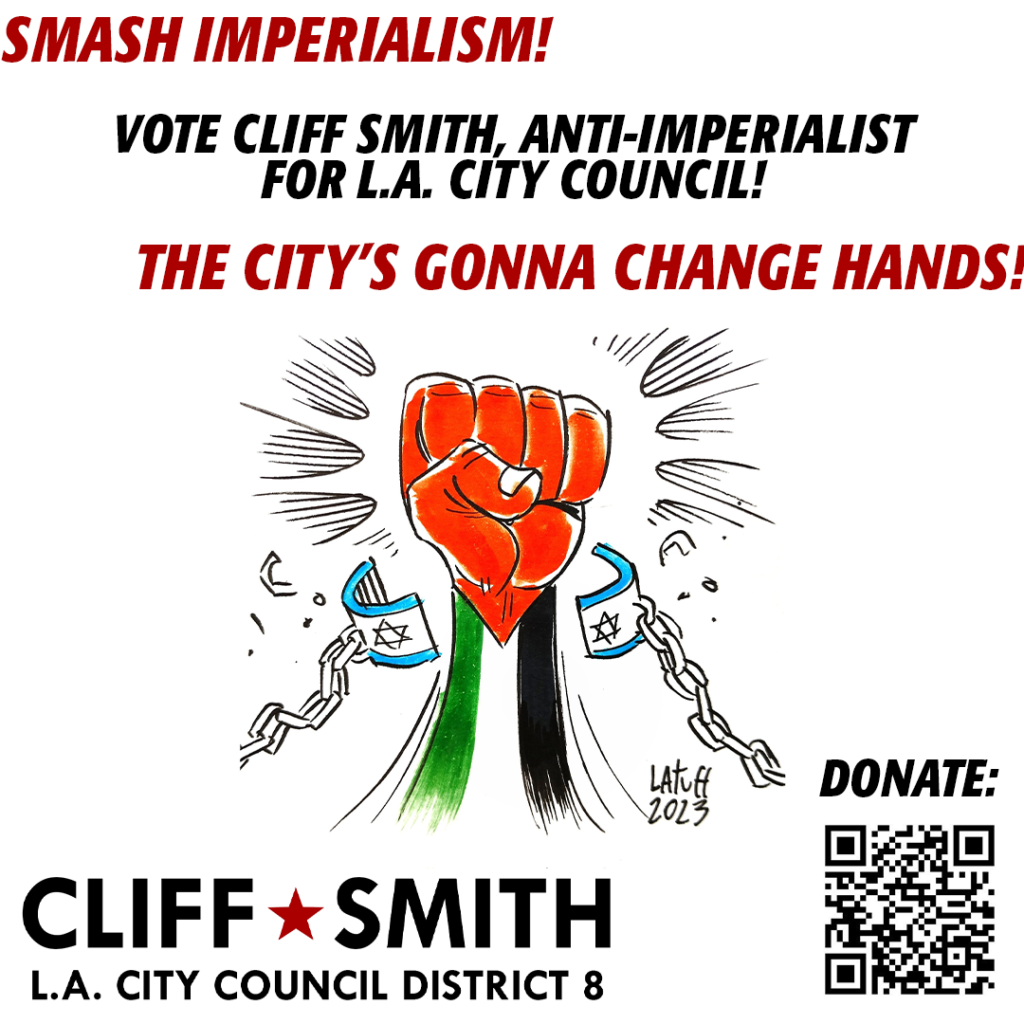 By David Zahniser, Dakota Smith, James Queally
LA Times Oct. 12, 2023 6:45 AM PT
Three years ago, political newcomer Nithya Raman drew national attention for her come-from-behind election victory, ousting a Los Angeles City Council member and becoming the first member of the Democratic Socialists of America to hold that office.
Raman is now running for reelection in a race where she has raised the most money and scored big-name endorsements. But in the wake of the recent attack on Israel by Hamas militants, she is also facing fresh criticism over her DSA ties.
On the day Hamas launched its assault, the DSA publicly declared its "solidarity with Palestine," writing on the social media platform X that the attack was "a direct result of Israel's apartheid regime — a regime that receives billions in funding from the United States."
Prosecutor Ethan Weaver, running against Raman in the March election, assailed his opponent over that statement, saying the DSA was attempting to provide "moral justification for the slaughter of innocent civilians." He called on Raman to reject her endorsement by the DSA's Los Angeles chapter, which raised money and ran phone banks for her in 2020. DSA-LA reendorsed Raman last month.
Raman, who joined the DSA's L.A. chapter several years ago, was among the first at City Hall to condemn what she called "the horrific violence by Hamas," saying over the weekend that she could not "imagine the terror" felt by L.A.'s Jewish and Israeli Americancommunities.
At first, Raman did not publicly address the criticism from Weaver and others. On Tuesday, however, she waded into the controversy, publicly criticizing the DSA's statement, which was first posted by the group's national arm, then reposted twice by its L.A. affiliate.
The DSA statement, Raman said, "failed to reckon with the horrors committed by Hamas and was unacceptably devoid of empathy for communities in Israel and at home who are living in fear and mourning."
The focus on the DSA's messaging comes at a time of anguish and anxiety for Israelis and Palestinans living in the United States, who fear for their friends and families in the Middle East. The fate of scores of kidnapped Israelis remains uncertain, and bodies of victims of the initial attack continue to be discovered. The Israeli military has launched a fierce counterattack, launching airstrikes in the Gaza Strip that have reduced entire city blocks to rubble.
Hussam Ayloush, executive director of the Council on American-Islamic Relations of Greater L.A., said he believes DSA leaders took a courageous and principled stance, expressing concern for "every innocent human life" — both Israelis and Palestinians — while "seeking to address the root causes of this senseless violence."
"Those attacking DSA are engaging in shameful bullying to intimidate others from daring to humanize Palestinians and call for an end to U.S. funding of that illegal occupation," Ayloush said. "I wish our political leaders had the same courage to help end the violence rather than continue to fuel it."
Meanwhile, some politicians have taken an even more aggressive stance toward the DSA. U.S. Rep. Shri Thanedar (D-Mich.), announced Wednesday that he is renouncing his membership in the group over statements by a New York City chapter. U.S. Sen. Jacky Rosen (D-Nev.), flatly called the group "extremists."
Raman, whose district stretches from Silver Lake to Encino, declined an interview request. In her three-page statement, she said that Weaver and his supporters have wrongly labeled her as a supporter of terrorism, creating pain for her and her family. Her allies say Weaver's campaign attacks have put her in personal danger.
Harris Mojadedi, Northern California chair of the state Democratic Party's Asian American Pacific Islander Caucus, called Weaver's criticism of Raman "deeply reminiscent of the hate against South Asians post 9/11."
Camille Zapata, a board member with California Women's List, said Weaver is employing "hateful tactics" that could stoke "violence and harassment" against the council member.
"The false accusations and horrific bullying tactics deployed by Councilmember Raman's opponent are more than an attempt to mislead voters and oversimplify international geopolitical conflicts," said Zapata, whose group has endorsed Raman. "They have real impacts and are putting a woman's life and family at risk."
Weaver said the campaign has never accused Raman of supporting Hamas. "In fact, we unequivocally disavow anyone who has done so," he said.
The back-and-forth reflects the fissures that have emerged in L.A. political circles over the war in Israel and the Gaza Strip, which has resulted in the deaths of more than 2,300 on both sides since Saturday.
Support for Israel, and the DSA's statements on the war, has also come up as part of the reelection campaign of Dist. Atty. George Gascón. Although the DSA-LA did not formally endorse Gascón, its political committee recommended Gascón in its 2020 voter guide.
On Wednesday, a group of 130 county prosecutors sent Gascón a letter questioning why he had remained silent on the Hamas attacks, despite his habit of issuing statements on such topics as the Azerbaijani blockade affecting Armenians in Nagorno-Karabakh.
Deputy Dist. Atty. Eric Siddall, who is running against Gascón in March, called on the district attorney to disavow the DSA, arguing that the group is "on the side of terrorists."
"Continued silence from D.A. Gascón cannot go on," he said.
Gascón, in a statement to The Times, said that, at a time of "tremendous grief for millions of people around the world," he remains "unwavering" in his support for the Jewish community.
"Any suggestion otherwise is an obvious effort to politicize a horrific tragedy and is completely outrageous," he said.
The DSA, both nationally and in its local chapters, has a long history of denouncing Israel over its treatment of Palestinians in Gaza, home to more than 2 million people, many of them children, living in conditions that have been compared to an open-air prison. DSA-LA has called for the U.S. to divest from the state of Israel, including questions on that topic in its candidate questionnaires.
In a statement to The Times, a DSA-LA spokesperson said the group "unequivocally" opposes the mass murder of Palestinian and Israeli civilians, including "Hamas' brutal attacks," the ongoing occupation and "the Israeli government's asymmetric and escalating violent response in Gaza."
"DSA Los Angeles members have family in both Israel and Palestine, so it is personal when we demand lasting peace and justice in the region — which is only possible if the occupation is ended," the group said. "We remain committed to Palestinian liberation, and firmly believe you can hold all these values at once."
At City Hall, three of the council's 15 members have been elected with major support from the DSA — Raman, Eunisses Hernandez and Hugo Soto-Martínez.
Councilmember Bob Blumenfield and 11 colleagues, including Raman, appeared Tuesday at a City Hall news conference billed as a show of solidarity with Israel. At the event, Blumenfield took aim at groups in L.A. that, in his description, have "seen this weekend's depravity and defended it."
Blumenfield voiced particular outrage that some groups have invoked the phrase "from the river to the sea," saying the words are code for genocide and the eradication of Israel. That phrase was used in social media posts by the DSA's San Francisco chapter on Monday and by DSA-LA in 2021.
"To say that at any time is awful," Blumenfield said. "But to say that in the midst of the worst attack, the killing of more Jews than we've seen since the Holocaust, is beyond contempt."
Asked about Blumenfield's comments, the DSA-LA spokesperson referred The Times to an article in the Forward publication that said the phrase is about freedom for Palestinians "throughout their historic homeland," not the annihilation of Jewish Israelis.
The responses to the Hamas attack have spurred discussion not just among council members, but also some of the city commissioners who serve at the pleasure of Mayor Karen Bass, who has repeatedly made statements supportive of Israel.
Eric Spiegelman, who serves on the Board of Taxicab Commissioners, said he has begun emailing donors to Soto-Martínez, Hernandez and other DSA-backed candidates, telling them the DSA should be seen as a "hate group."
Neither Hernandez nor Soto-Martínez provided comment on Spiegelman's email. Soto-Martínez put out a statement Wednesday calling for the violence to be "de-escalated urgently." Hernandez separately condemned the "targeting of children and families" in Israel and Gaza in a statement issued the same day.
In recent days, Blumenfield has declined to criticize his colleagues, saying they should not be held responsible for remarks made by their political supporters.
"People are endorsed by lots of organizations," he said. "That doesn't mean that they have the beliefs of those organizations."
Raman said she is working to foster dialogue between DSA-LA and the city's "diverse Jewish communities." Weaver, on the other hand, said he still believes Raman should sever ties with the group.
"What the voters deserve is clarity, which means disavowing this endorsement," he said.
State Sen. Scott Wiener (D-San Francisco), who has been sharply critical of the DSA in recent days, took a different view. In an interview, he said Raman showed integrity for speaking out against a group with which she is closely aligned.
"She's getting beaten up for doing it," he said. "But one of the reasons I support her — whether it's on Israel or on housing or on a number of other issues — is she is willing to take tough positions."